ANTIQUE BOXES
at the Sign of the Hygra
2 Middleton Road
London E8 4BL
Tel: 00 44 (0)20 7254 7074
email: boxes@hygra.com
Antique Boxes in English Society
1760 -1900
by ANTIGONE
Writing Boxes
A Rare late 18th Century Mahogany, Tambour Top Writing Box Circa 1800.
A late 18th Century mahogany, tambour top writing box in the manner of a drawing in The Cabinet-Maker's London Book of Prices 1788. by Thomas Shearer, inlaid to the top with a conch shell inlay, having twin carrying handles.

Dimensions when closed:

11" wide by 7.25 high by 9.5" deep.

Click on the images to enlarge:
Figure 4 of , Writing Box Designs by Thomas Shearer, from The Cabinet-Maker's London Book of Prices 1788.

The box has a drawer operated by the "tambour" method: as the role top of the box is opened the drawer emerges.
The box is framed with a crossbanding of tulipwood and edged with boxwood, except around the tambour which is framed with a geometric purfling in contrasting woods.

The twin carrying handles are gently patinated.
| | |
| --- | --- |
| | Detail: the slatted tambour which is made from molded slats fixed to a flexible canvas backing. |
To the top there is a conch shell inlay.

Inside the twin drawers are faced with satin birch.
| | |
| --- | --- |
| | Detail of the conch shell inlay. The wood is mainly maple; the shading is achieved by scorching the elements in hot sand. |
| | |
| --- | --- |
| | Side view with the drawer open. |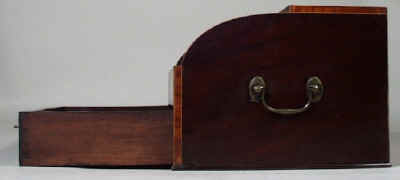 | | |
| --- | --- |
| | The drawer has blind dovetails to the front. These are particularly fine. |
| | |
| --- | --- |
| Side view of one of the smaller drawers: there are blind dovetails to the front edge and through dovetails to the back. | |
The box has two late 18th Century glass inkwells with silver plated tops.

Working lock and key.
We found a fragment of a label inside.

At the moment we think the address on the label maybe 13 Brownlow Street Holborn, Strand, London.

These premises were occupied by

Batey ( -1820d)

Batley, William is then recorded who in turn were taken over by Fuller & Levet.

In our recorded box makers in our forthcoming book we give:

FULLER, W. C. (Late Batley): 1835-39, Manufacturer 13 Brownlow Str. Holborn London.

1. Rosewood veneered writing box with brass surround and sunk in handles. Complicated arrangement of secret drawers, having an extra trap with a side drawer under the secret drawers. There is also a very unusual double bottom, with one layer constructed of narrow strips of mahogany, folding back like a rolled top desk. Good quality and unique arrangement.